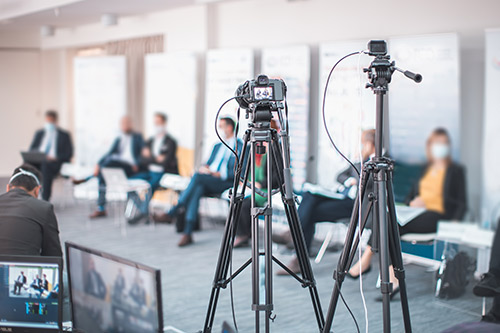 The pandemic fundamentally changed American business. Across the spectrum of American industry, fewer air miles are being logged and business collaboration is happening virtually. We exist to further the business interests via the highest quality and reliable virtual event and livestreaming services available.
We deliver the equipment and specialized staff required to execute your live streaming events with the professionalism you demand and expect. We craft lighting solutions, design backdrops, provide audio, and broadcast video solutions to digitally professionalize your events.
What is common among those that we've served with live stream virtual presentation services are business enhancing results that they never thought of prior to meeting us. We can create custom multi-page micro sites, online landing pages, secure viewing pages, social media tie-ins, and a host of other things that go well beyond simple shared audio and video feeds.
Allow us to guide you through business communication strategies that will elevate your business' reputation to new heights. For more tips on Virtual events and Livestream, contact Showcall.