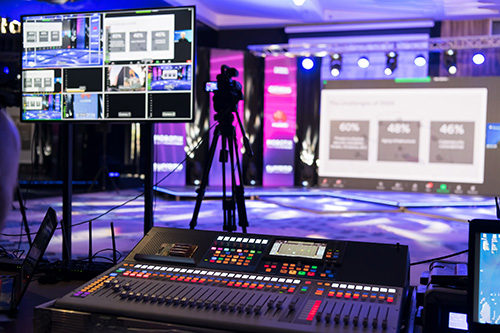 Live streaming and virtual participation will be consistent elements in most live events for the foreseeable future. At Showcall, we are excited to be playing a role in helping clients successfully implement reliable methods to enable these services. Conferences, meetings, product roll outs, performances, and fundraisers are all common applications for live streaming and or virtual guest or stage participants. Though it is hard to work on these virtual projects, we believe it will be fun to give you some details on how our Master Control Room is used to connect people and audiences around the world.
Our virtual events and live stream's Master Control Room delivers unforgettable virtual events and conferences. We use the same highly reliable equipment and software that all of the largest broadcasters in the world rely upon to transmit their live audio and video to and from their control rooms around the world. We can often reduce or eliminate the need for expensive and or unreliable venue internet charges or services. Streaming to multiple social media platforms simultaneously or selling tickets to a select audience can easily be configured from our Master Control Room. Nowadays, virtual and hybrid events have become the new way of broadcasting your special moments. We are now providing our clients with an engaging and professional way to record and live stream events from our reliable and cost effective MCR.
In a changing world, there are many reasons creators want or need to move their live activities online. We work hard to make that first impression count. Telling the story with a dynamic page that will update from registration capture to live stream to post-event content based on when visitors click through.
For more tips on Virtual Events and Livestream, contact Showcall Inc., Inc.