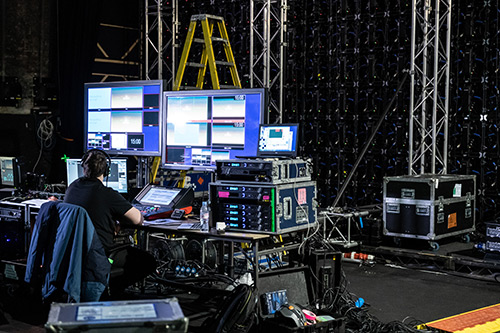 Showcall's event design services contributed foundationally to the success of thousands of events across the national capital regions of VA, MD, and DC. Our creative and design teams are subject matter experts in all phases of event production. This ranges from pre-event requirements analysis, site survey, crowd flow, stage design, power production, physical security, and the list goes on. Today, we'll focus on just a few of the things you can trust our event design and production team to deliver to you, your business, and your audience:
Conceptualization and Creative Vision: Showcall's event design team works closely with you to understand your goals, objectives, and vision for the event. We bring our expertise and creativity to the table to develop a compelling and cohesive event concept. Our ability to think outside the box and come up with innovative ideas can set your event apart from others, leaving a lasting impression on attendees.
Theme Development and Branding: Showcall's event design services can help you develop a theme or concept that aligns with your brand and event objectives. We create a consistent visual identity for the event through branding elements like logos, color schemes, signage, and collateral. This cohesive branding helps create a memorable and immersive experience for attendees, reinforcing your brand message throughout the event.
Visual Aesthetics and Atmosphere: Showcall's expertise in event design allows them to transform event spaces into visually stunning environments. We carefully consider factors like lighting, decor, stage design, furniture, and overall ambiance to create an atmosphere that captivates and engages attendees. The visual appeal of the event can enhance the overall attendee experience, making it more enjoyable and impactful.
Space Planning and Layout: Showcall's event design team excels in optimizing event spaces for maximum efficiency and flow. We strategically plan the layout to ensure smooth traffic flow, easy navigation, and effective use of space. This attention to detail minimizes congestion, facilitates interactions, and enhances the overall attendee experience.
Audiovisual and Technology Integration: Showcall's event design services encompass audiovisual and technology integration to create impactful and immersive experiences. We leverage cutting-edge audiovisual technologies, such as projection mapping, LED screens, sound systems, and interactive displays, to engage attendees and convey your message effectively. Our expertise ensures seamless integration of technology elements into the event design, enhancing the overall impact and wow factor.
Vendor and Supplier Management: Showcall's event design services include managing various vendors and suppliers involved in executing the design plan. We have established relationships with trusted partners, ensuring seamless coordination and timely delivery of services and products. This reduces the burden on event organizers and ensures a smooth execution of the design vision.
Attention to Detail and Execution: Showcall's event design team pays meticulous attention to every detail, ensuring that all aspects of the design plan are executed flawlessly. From setup and installation to teardown and cleanup, our expertise and experience guarantee a smooth and efficient process. This attention to detail helps create a polished and professional event experience.
Showcall's event design services will make your event a stress-free smashing success by providing creative vision, cohesive branding, visually stunning aesthetics, efficient space planning, immersive technology integration, seamless execution, and overall attention to detail. Our expertise and dedication to creating memorable experiences can elevate your event and leave a lasting impression on attendees. Contact Showcall today!